The Right Fit for Your Lifestyle
Sapphire models have been precisely engineered both inside and out. With the ability to manage a variety of wine bottles, beverage cans, and other storage needs, to unmatched precise integration into any 24" cabinet setting, Sapphire provides the right fit for your lifestyle.
Learn More
Optimum Temperature Management & Recovery
Sapphire's cooling system is engineered with a powerful compressor, twin condenser motor fans, optimized wind route system and vortex technology to achieve fast cool down and even temperature resulting in an extremely energy efficient operation.
Learn More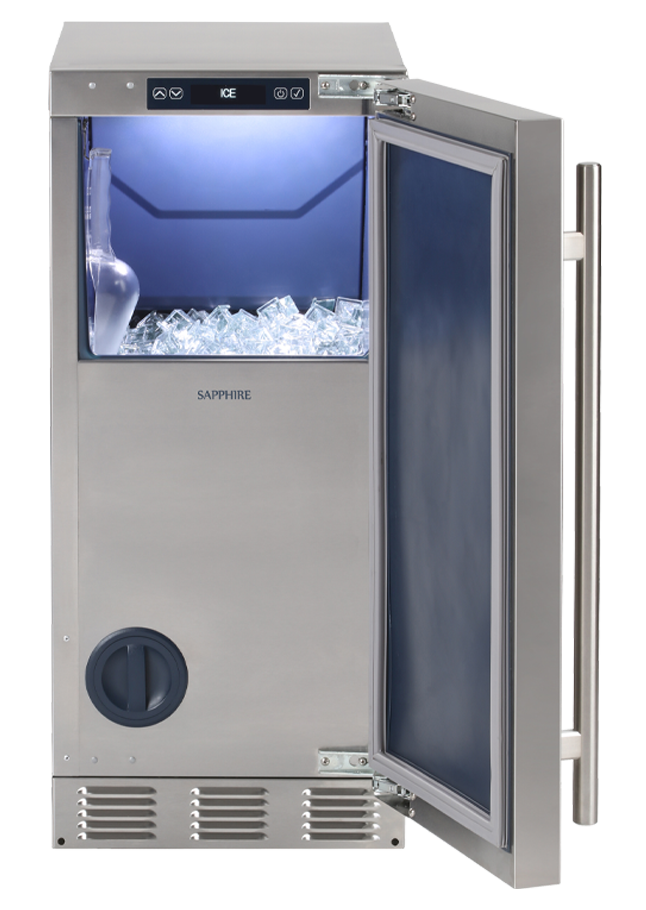 Featured Product: Indoor 15" Clear Ice Machine
Available in either gravity drain or pump model and choose a stainless steel finish or panel ready. Ideal for both residential or commercial foodservice and entertainment applications.
Learn More
Sapphire Design Solutions
Solving Challenges Through Innovative Design

Space Management
Wine bottles don't fit in the racks. Or Beverages and food packaging won't fit on the shelves.

Life Changes
I don't store as much wine anymore. Or I need more wine storage! Now I have to buy another unit.
Accessibility
It's difficult to access product that is lower and further back in the unit. It is so dark inside the unit and difficult to see.

Doesn't Fit Quite Right:
The undercounter unit doesn't seem to fit right with my cabinets. Large gaps, toe kick sticking out into room, unit is protruding from the cabinets. Looked better in the showroom!

Design
Seems like undercounter products cut corners and compromise on design. They are not as elegant as their larger counterparts. They seem like an after-thought.